Australian Labradoodle and Goldendoodle puppies are easy to fall in love with at the first sight. Erica's Doodles brings you a diverse collection of Australian Labradoodle and Goldendoodle puppies for sale in Illinois to help you find your perfect companion. Each puppy comes from impeccable bloodlines and is bred for looks, personality, and health, so common health problems known to affect the breed will not affect your pup.
All puppies are socialized with children, multiple family members, and other pets, so they are ready to join any new family. With 10 acres to run, they get plenty of exercise and each puppy is always under the watchful supervision of their mother and their family. Regular vet visits and careful nutrition ensure the puppies are as healthy as they are cute, and they have the energy to keep up with their curiosity.
Take a look at the gallery to see pictures of your new puppy. To find a specific breed, size, color or bloodline, check back again regularly to see the new puppies available.
We never hold puppies without a deposit. If you are interested in one of our beautiful puppies, we require a $ 500.00 deposit ! Our puppies are sold on a spay and neuter contract which is legal binding.
We do offer shipping. We will hand deliver your puppy to you!
Shipping is $ 400.00 additional
We do not hold puppies without a  deposit
Deposits are non-refundable however, transferable to a future litter
Puppies are sold on a spay neuter contract
We do we do not hold any puppy without the required deposit, the deposit is $500.00. Puppies get adopted very quickly!
Puppies are sold on a spay neuter contract which is legally binding! We never hold puppies without a the required deposit!
We do not hold any puppy without a deposit!
 Feel free please contact us for available and  upcoming  litters!
Puppies available: 
Erica's Doodles is proud to announce we had a stunning litter of F1B Sheepadoodles.  They were born 8/10/21, everyone should mature to about 55-65 lbs. We have a few babies looking for their forever homes   Aiden is a snuggle bug, he will crawl right up onto your lap and fall asleep.  Hobbes loves to snuggle but yet loves to jump in and play and follows my youngest daughter around.  They are all hypoallergenic and non shedding.  Each puppy has the cutest little white milk beard and little white tuxedos  Puppies will go home 10/2/21.  They are doing amazing at potty training and have some of the sweetest temperaments. If you would like more info on any of these babies please call or text 708-424-0712. All puppies are sold on a spay/neuter contract and we require a copy of owners Drivers License along with non refundable deposit of $500.00 to reserve any puppy. Pictures updated on 9/27/21.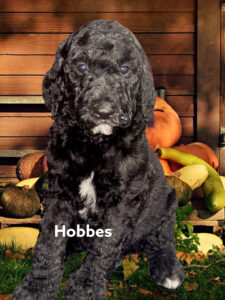 FUTURE PLANNED LITTERS FOR 2021
Mini Bernadoodles;
Tri Color, Merles,
Red and Black
                                                  Mini Goldendoodles;
Red and White Tuxedos,
Red and White Parti, Black, 
Mahogany Red (Irish Setter Red)
Mini Double Doodles;
Red, Red and White Tuxedos, Merles,
Phantoms and Black
Standard F1 Bernadoodles;
Tri Color and Sables
          F1 English Teddy Bear Goldendoodles;
English Cream,
Apricots and Tuxedos
Sheepdoodles;
Merles
Black/White Tuxedos