Call or Text
708-424-0712
Email: Ericadoodles@yahoo.com
As Breeders we always reserve the first spot for breeder pick.We accept on an average 9 reservations per litter.  In the event the litter is smaller then anticipated we will work with the family to find a similar litter or client can choose to have the reservation fee returned.
*We try to predict the size of your future puppy but can never guarantee  maturity weight.
*Previous clients of Erica's Doodles will receive a $300 discount on all future puppies they purchase from us.
*Our puppies are sold on a strict spay/neuter contract.
Reservation fees are non-refundable, but can be transferable up to 1 year from the date your reservation fee was received. 
We have Medium F1B Goldendoodle Spots available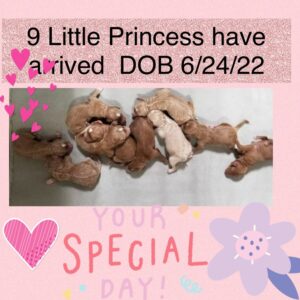 Generation:  F1B Teddy Bear English Cream Goldendoodles
Coat:  Wavy/Curly
Colors:  Red, Red/White Tuxedo,
Expected Weight:  40-45
Go Home Date:  August 2022
Due:  6/24/22
Price:  $3,500
Deposit:  $500 (non refundable)